What do you write?
GIANT
Tell us a little about yourself… How long you've been painting and who you're down with etc.
I started writing graffiti in 1989 just before I started college. I was living in Albuquerque, New Mexico at the time. The first real crew I was put down with was ATK. It was originally a NY crew that my partner/mentor AGREE started. Later I was put down with 2ZC, another important Albuquerque crew. When I moved to San Francisco in 1993 I hooked up with some guys from BA, a crew originally from the Baltimore area. Around 1997, I pushed FSC for a while when I was painting with WIM. I've also pushed MH crew from Detroit, SB and DTE crews from Chicago. And for while in the 90s I ran a crew called AOT.
Your letters are instantly recognizable worldwide. Who or what are some of your biggest influences?
My mentors DOC and AGREE. BATES, BLES, EWOK, RISKY, SEEN, GREY, ZORE, REAS, WANE, etc.
If you had to "name" your traditional graff letter style?!
I guess I call that "New York Simple Style".
Any fun racking stories you can share?
Not really. When I was stealing, I rarely had problems. I didn't like to body rack so much though. I was more into finding ways to take whole shopping carts full of paint at once.
So what brands of paint did you use most frequently in the early years?
Krylon and K-Mart.
Do you have a can collection?
I have about a dozen cans that I hold on to.
Can you still find old paint stock in your area?
I sure don't think so.
Any SF spots where we can expect to see Giant work today?
I still get up about once a month. Right now I have a few pieces running in the Mission, the Tenderloin and on Upper Haight.
Any favorite old SF paint stores?
I always went to the East Bay to get paint. All the SF spots were expensive and lacked variety.
Current favorite illustrators?
Charles Burns, Usugrow, Chaz.
Essential tools of the trade?
In the graffiti trade, some latex gloves. Don't get caught red handed.
Best discontinued paint, and why?
Jungle Green Krylon. I just miss that color. It was so nice.
Ever found some racked caps work good with certain paints?
Sure. We used to take the caps off window cleaner for outlining with Krylon in 1990.
Worst paint ever award goes to?
Probably K-Mart.
Some of your best painting experiences?
Bombing a wall at night with Wane in the Bronx, bombing trains in London, bombing the Dubose Tunnel in SF with Joker and Sope in 1993, bombing Tokyo with Bigfoot…
How do you feel about the brands of Euro paint and their impact on the scene?
The Euro paint manufacturers really stepped it up. I feel like the American manufacturers couldn't acknowledge that graffiti artists were using their products, so Europe took over. European paint is better. Plain and simple. I love it.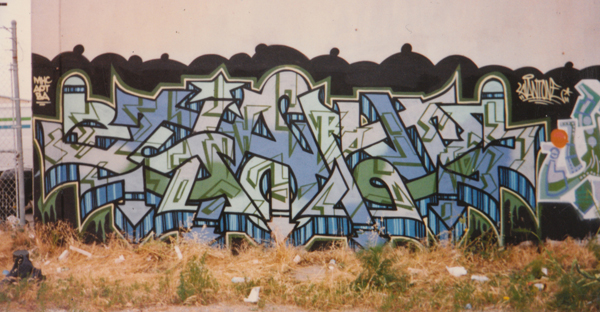 If you could choose a few cans to have on your shelf, what would they be?
I'd love some old Krylon cans like 'Icy Grape', 'Hot Raspberry' and 'Jungle Green'.
Upcoming projects?
I'm doing an event in LA in July, then one in SF in August. That's about it.
Small piece of Giant advice?
Case the spot first.
Any other comments?
Stay up!