What do you write?
Pryme
Tell us a little about yourself… How long you've been painting and who you're down with etc.
I first started painting walls in the very early eighties. I remember I used to steal gloss paint from sheds and paint my nickname all over the place! I suppose it was my first taste of getting up, not tags, just good old fashioned vandalism. Round '84 I first saw graffiti tags and pieces and thought, that's for me. I was an active bombing and occasionally painting 'til '89 wit Era when, like with many UK writers, I gave up the game for the rave scene. After partying hard for 10 years I decided to get back in the game. In 2000 I dropped my first piece in over a decade and haven't looked back since.
What brands of paint did you use most frequently in the early years?
Holts, Dupli-Color & Carplan.
Do you have a can collection?
No… Cans are for painting and not to look at, although I can see the attraction.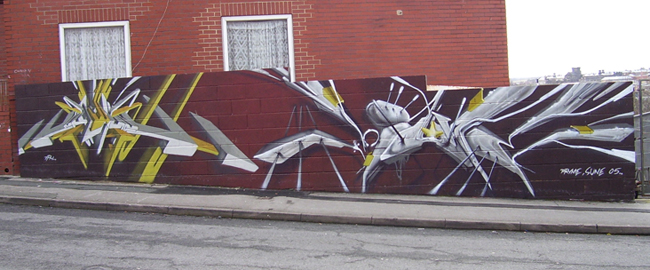 Can you still find old paint stock in your area?
Yeah, most of the local car shops still have Holts, Dupli-Color & Carplan.
Any good racking stories?
Not really. I just remember in the 80s it was too easy… not sure if I ever paid for paint or markers for that matter!
Any favorite old paint stores?
'Carstuff' in my local town. They used to have cans outside – so you didn't even have to go inside the shop to rack them!
Worst paint ever award goes to?
Anything metallic.
What are some of your best painting experiences?
Without doubt, using my first can of Belton Molotow with a banana cap.
How do you feel about the brands of Euro paint and their impact on the scene?
After 10 years out of the game, to come back to Spanish Montana was a revelation, then Belton came out with what I believe is the greatest paint ever made. Time will tell if Molotow is ever surpassed, but I doubt it. Maybe if they put a decent stock cap on their cans they would have perfection.
If you could choose a few cans to have on your shelf, what would they be?
Belton Molotow with the black banana skinny's.
Thoughts on CMC documenting spray paint history?
Although I ain't a can collector, I'd rather paint with cans than collect them, but it's good to document it.
Any current or future projects we should know about?
Ironically I'm doing a bit of an exhibition at the old Carstuff store front at the moment. Future projects… To find that killa spot that nobody's found.
Where can we expect to see Pryme getting up these days?
In the north.
Any other comments/shouts?
Shouts out to all the people I've painted with and met along the way.
Pryme TPN