What do you write and how long have you been painting?
I write Python or PYone and I began in 1979. I retired in 1987 and picked it back up in 2007.
So what brands of paints did you use most in the early years?
Rusto, Krylon, Red Devil, etc.
And aside from Krylon & Rusto, what more unusual brands of paint did you or BAD like to use, and what do you remember most about these? ie: color range, coverage, availability, etc. For example: Red Devil, Epoxy, Martin's Paint, Caldors, Woolworths' line of Home-Cote… or any others you can think of.
I used Martins paint and Red Devil quite a bit. For a quick minute I even experimented with Testors, but the cans were small and wack. (They worked nice in black books tho'). There was a shop called Painters World on Liberty Avenue that carried some various paints but for the life of me, can't remember. Martin's and Red Devil were just so thin on coverage and really didn't accept fatcaps/cap edits very well, ESPECIALLY (Zynolyte) Epoxy.
Python, BAD. 1983, Oxford station (A Train EL layup)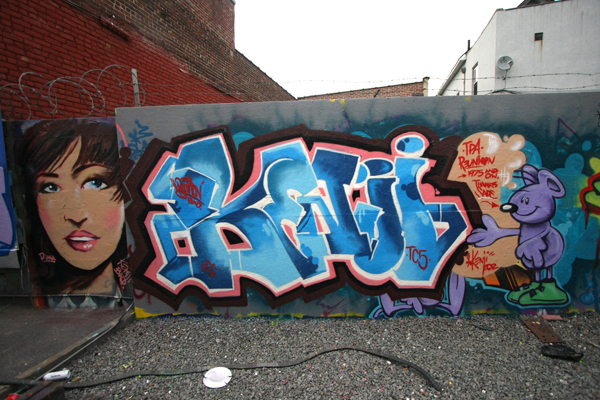 Kenji, BAD. Tuff City Styles, Bronx – Summer 2012 with the TPA crew reunion (1975 and on!)
What colors do you remember being hard to find, even back then?
I can't remember if Icy Grape or Fed Safety Purple was the hard purple to get, but I loved those colors. There was also an off-white that I liked for characters highlights that was hard to find.
Was there a need to always look for fresh spots to rack as you traveled, or did you pretty much have reliable stores close by?
Growing up in Ozone Park, Richmond Hill I was one of the first writers to bring City writers around to rack… it was heaven for writers like Doze, Seen TC5, Fabel, Lady Pink, Erni, Wiggles and others who I brought through. Kids in candy stores. We played the innocent asian kid gets left alone while the urban looking ones get the evil eye. Used to get off with 15-20 cans per store and ROTATE. Eventually it got hot, we just laid off for a bit.
Any favorite old-school color schemes?
I liked to blend all sorts of blues and aquas and outline with white. I was also a big fan of Rusto silver with super oven cleaner fatcap red outlines for whole car t-to-b's.
If you had to choose between the two: Rusto or Krylon?
Definitely Rusto for throw-ups and bombing, not nearly the spectrum of colors for burners and pieces with characters of Krylon.
Python, BAD. Graffiti Universe, tribute to the victims of the Tsunami in Japan
IZ tribute by Python, BAD. 5pts, summer 2010. 2nd anniversary of IZ's passing.
Did you save any old cans from over the years?
I do have one can of Krylon fed purple from the old days (1980).
Can you still find any old paint stock in your area?
Not that I know of. I'm in the Heights but I'm sure there are…
Do you miss any favorite old paint spots? (Mom & Pop hardware stores)
Used to be a spot on Liberty Ave off 111th street in Ozone Park where I grew up called "Painters World," one of the first if not THE first forward thinking shop that carried spray paint, markers and black books. There was also a place out in Park Slope, an art supply shop run by a woman who's name I cannot remember, from around 1982.
Python, BAD. 'Big Cat Theory' with Sien IDE and Rebel NSA. (5pts roof) November, 2011.
Kenji, BAD. Smokey Park, Queens, NY 1984. "Dedicated to all those artists who believe… Back for more in '84…"
Can you share any racking adventures with us!
Oh man. Forest hills with my homeboy Jez (RIP), SR and Jammer, walking out after racking the shit out of this small hardware place, backing out slowly while telling this old Hasidic man, "You didn't see nothing… put the phone down!" Then running the back alleys and streets after the cops chased us from there to nearly the LIRR station at Jamaica.
Would BAD typically rack as a crew? Was anyone particularly good at it, and perhaps always had plenty of paint on hand at home?
Sonic, Jez, Jamer, Joe61 Ink76, Meek and I would rack togther sometimes. Someone had a car, maybe it was Sonic, we would travel all around to rack. We were all kind of skinny, cept Jez (RIP) but he had balls, he would slam all the cans into his tied up sweater and walk out in smaller stores, taunting the clerk. Never got chased.
One time, Sonic and I were JUST walking out of some big department store in Long Island and I got caught… (they had cameras on the ceiling). I could have taken a swing at the security guy but didn't know shit about the neighborhood and would have gotten mowed down in the parking lot. They kept me in a room, asked me a bunch of jackass questions and confiscated my 007. So the store manager flips my knife open and earlier that week I made a home made mop for insides with KC1 and Crime79 or Baby168 can't recall, but we were gonna rush the J's – I wanted to make a blend of black and red flo-master ink, and it looked exactly like dried blood and he thought maybe he caught something more than a graffiti vandal lol. Amazingly, after an hour and a half, they let me walk. That night sucked.
Best discontinued paint, and why?
You could not get a cleaner, larger stream from the old Rusto silver. Also I dug the smell.
Which color palette are you more likely to choose from: Pastels or fruits?
Definitely pastels. I ran with pinks, aquas & purples big-time. Lots of that comes from the TC5 & IBM inspiration like; Seen, Doze, Doc, Keo, Airborn, Poke, Sye etc…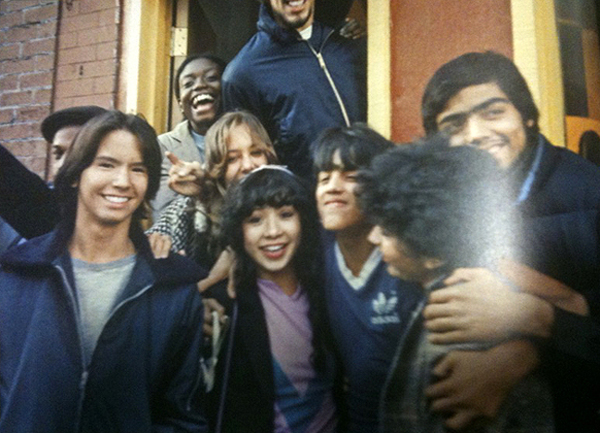 Fashion Moda, Bronx 1980. Left-to-right: Python, Lady Heart, Crash (center obscured), Lady Pink, Mare139, Kel139.
I was taught some tricks on old cans back when I was just a wee toy, but I never forget at Fashion Moda in the Bronx, Futura2000, Crash and even Lee would show me some stuff on how to make the paint do different things… Pressure differences, clearing the nozzle upside down for thin lines, etc. Sadly, while experimenting with Avocado Rusto, a cap did not fit and I asked my friend Gloria aka Lady Heart, (Scop's sister) to give me a hand. The can top kind of burst, without shrapnel and the paint was all over her (very dark and very embarrassed) face. I think I stopped writing for a couple of hours after that. Maybe my dumbest moment as a graffiti artist.
Do you put a lot of time into planning your color schemes?
When prepping sketches, yes. Usually I make do if I am unsure of cans or when painting "off the cuff."
Worst paint you ever used? Most notorious colors to avoid?
I don't like the way Ironlak smells, but I have only used them a few times. Krylons coverage STILL SUCKS.
Some of your best painting experiences?
Background scene development for the movie Delivery Boys… Top to bottom whole car ding-dong (A) of all women's faces…. My comeback wall with Erni, Shiro and Lady Pink a few years ago in Astoria… Wall to support Japanese Tsunami victims last year at Graffiti Universe with Sonic, Rebel, Enue, Slave and others.
Kenji, BAD. Graffiti Universe, winter 2011. Super Bowl prep (Giants WON!)
Kenji, BAD. Graffiti Universe, summer 2011.
Best paint on metal?
Rusto, hands down but I haven't tried the new stuff yet.
Do you miss the experimentation within the scene that's been replaced by specialized paint brands?
I don't know, it spoils you. All the colors, all the caps. I'm okay with it!
Your preferred brand at the moment for outlining or detail work?
94's
Do you still use domestic brands along with specialized paints?
For fill-ins and backgrounds, sure.
If you could choose a few cans to have on your shelf, what would they be?
Stacked with Rusto Silver & Fed Purple and Krylon, Icy Grape & School Bus Yellow!
Any projects going on right now or in the near future?
I am finishing up the backgrounds of a wall we did at 5 Pointz with Sade, Sonic, Shizel, Panic, KCone, Zimad, StefRoc, Crime79 and more. Probably doing the graffiti hall of fame and am in serious discussions for a large mural which will be more artwork-based than graffiti.
Stewart gallery on 57th street, 1982. Legends pose with cans, including: Web one, Sonic, Doc, Beam, 2Kool, Panic & Python among others.
Your thoughts on CMC documenting spray paint history?
I think it's great that someone is. Maybe start a museum!
Comments, shouts, honorable mentions?
Have to call out my crews BAD inc, X-Men, TC5, IBM, TPA and TMB… Shout outs to Rebel NSA, Sonic BAD, KConer, Shizel Uno, 2ILSIC, MKCNA, Meres from the Ptz, Joe Russo, Fabel RSC, Wigglez IBM, Doze TC5, Scar and Chino BYI, Keo TC5, Demer VS, Sade TCM, Key, Bids, Shiro, Erni and all the artists that attended A&D from the 70s to the 90s that brang it.
Sade, Sonic, Kenji, BAD. With characters by Python/Kenji, BAD. 5pts, NYC September, 2012.