What do you write?
My name is Zevel/Zews, CPK, TNP, DM, Scripta Manent.
Tell us a little about yourself… How long you've been painting and who you're down with etc.
I started painting in 1995, after a year of exercise on paper… I started painting I did a lot of silver pieces on freight trains as well as some walls, but the trains were easier, faster and less expensive for a boy of just 15 years since I had a lot of money to make bigger pieces with many colors. I never painted for long periods with the same people, having had several crews over the years have always been a free spirit and I like to paint with people with whom I have a good friendship and good feeling. I painted all over in Italy and I have many friends everywhere, but often I paint in my city Brindisi.
What brands of paint did you use most frequently in the early years?
The first brands of paints I used were those found in hardware stores in those days … There was not all the great brands of spray and all shades of colors that are there today .. had to make do. I used: Happy Color, Torre Colors, Nitex and Macota colors. Now I use: Montana Black, Montana Hardcore, Montana Gold, Clash, Happy Color, Belton, MTN 94 and Sabotaz… any brand… makes no difference to me but my favorites are the Montana Golds.
Are you a can collector?
No I am not..unfortunately. But now I would have an infinite collection of spray if I had collected… ha ha!!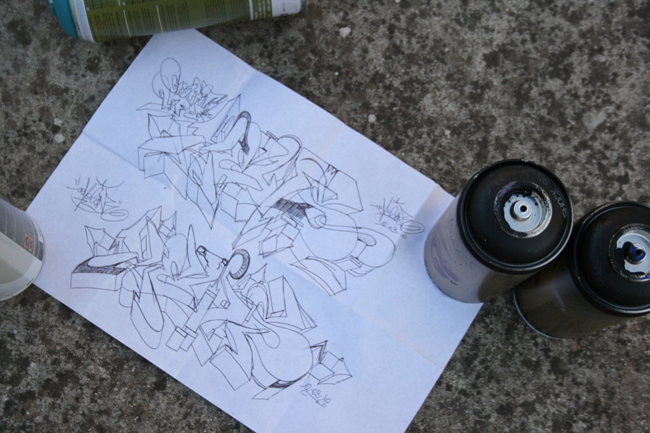 Can you still find old paint stock in your area?
Yes! In hardware stores there are still some!!
Any good racking stories you can share with us?
Stories to be told there would be many… each piece has a story in itself… days, times, situations, peoples, friends, fear, night, silence, technique, style, the study of letters, skills, the smell of paint and the search for the perfect line… I think that each one of these feelings there is the key to my passion in doing graffiti and writing a different story in each piece.
Any favorite old paint stores?
Not one in particular.
Best discontinued paint, and why?
New paint does not regret the old. Today, the paint quality and variety of the colors are very good, much progress has been made over the years
Worst paint ever award goes to?
Macota Colors
What are some of your best painting experiences?
My best experiences have been when I painted in other cities of Italy and get a chance to meet new people, make new friends, and compare the different scenes. Then enter the yard at night with the right people and try in a few minutes to reach by train the same way that you can express on a wall painting safely.
How do you feel about the brands of Euro paint and their impact on the scene?
I think the impact of new paint on the scene was fantastic… the writers now have the opportunity to use paints that are very reliable and good quality and a wide range of beautiful colors.
If you could choose a few cans to have on your shelf, what would they be?
I'd like to have some Krylon… I have never painted with them because unfortunately they are not sold in Italy.
Any current/future projects?
Continue to paint always trying to improve the style of lettering and try to bring interesting works on canvas.
What do you think of CMC documenting paint history?
I think it's a serious project and interesting for people like me who has been painting for 15 years, and also for newcomers who come to the world of graffiti writing.
Any other comments/shouts?
Thank you for the opportunity to tell my story and I greet all the people who know me and appreciates me and all the people who did not know me and for the first time they saw my productions!
See you soon…
-ZEWS